The Manual lifting hoist is widely used in workshops, warehouses, shipyards, oil and gas fields, the mining industry, and the marine industry for lifting and movement of cargo from 500kg up to 50000kg.
Performance Test Of Manual Pulley Lift
Performance test of manual pulley lift is vital before usage. A TITANSUHE's hoist will be tested as per the below procedure:
1. No-loading test to check the free movement of hand chain and load chain.
2. Light-loading test to check the smallest weight can be lifted.
3. Rated load test to check the proper operation and basic strength a hoist should have.
Other Important Test Of Manual Hoist
Except above performance test, we always randomly take samples from the production line to do the following test to verify that our products meet ASME30.16, EN13157, and AS1418.2 standards.
4. Life cycle test to be sure the life duty of our manual hoist can reach 1500 cycles at least
5. Breaking load test ensures our manual hoist meets 4 times safety factor minimum.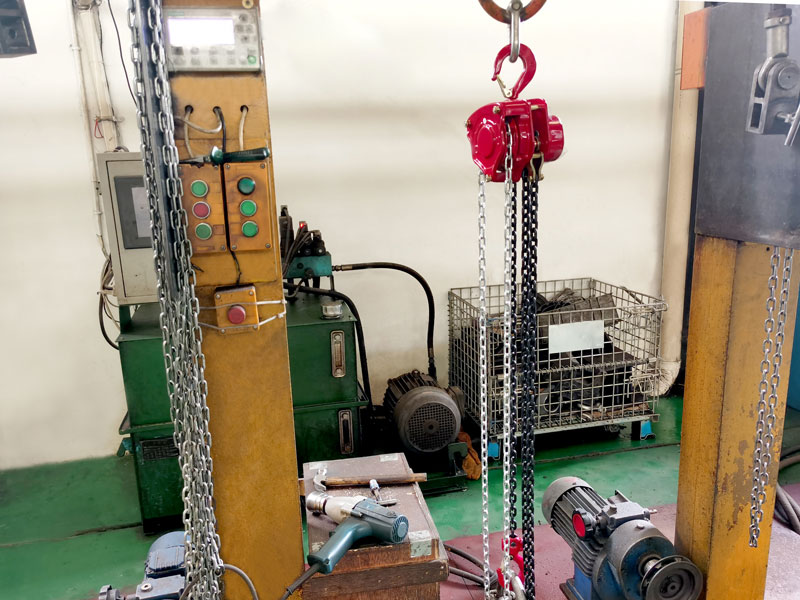 Each of TITANSUHE's hoists will be tested under 1, 2, and 3 procedures and get an independent certificate with tracking no. Below rated load test video for your reference.
Details Of Titansuhe Tests
Test Model: HSZ-622, capacity with 3T, 5T, and 10T
Test Type: Rated load test
Test Device: We use the performance test device to check product quality. This Manual lifting hoist test device mainly includes a test frame, a tension meter, a hydraulic system, and a bottom plate. In order to run the whole system, we use two lifting eyes to connect the hoist and loads, the first lifting eye connects with the tension meter, and the second lifting eye is located on the hydraulic cylinder fixed to the surface of the bottom plate. The device relies on the hydraulic system and a tension meter to test the braking performance of the chain lift hoist, which saves time and manpower, improving the test accuracy a lot.
Test Process: Apply the rated load on the hoist, raise the load by 300mm through hand chain pulling, then lower the load at the height equal to one rotation of the hoisting chain wheel to check if the loads can raise and drop properly.
Test Result: Qualified

Test Advantages: Different from most general factories that do the best by machine (use the motor to run the hand chain), we use the hydraulic system, but use manpower to pull the hand chain for the test. This kind of test is not as efficient as machine tests, but it is the closest to the actual operation and can find any problems which machine tests may not find. That's why we can provide a one-year quality warranty for each of TITAN SUHE's hoists.